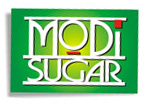 Modi Sugar entered the retail business in 1998 with the launch of its regular sugar brand, Modi Sugar. The brand was available in 1 kg and 5 kg packs. Modi Sugar has in place an all-India distribution network with a strong presence in Delhi, UP, West Bengal, Punjab, Haryana, Himachal Pradesh, Rajasthan, Madhya Pradesh and the North-Eastern states.
A strong network of 40 Carrying and Forwarding agents, 90 Distributors and 50 Sales Officers from the FMCG category carried out the business for the brand Modi Sugar.
To capitalise on the retail distribution, more products were added to the Modi Sugar brand basket. Sugar Cubes, Sugar Candy, Icing Sugar and Refined Sugar are just a few of our popular products which have won the hearts of Indian consumers.

Modi Sugar created another dynamic brand in the name of Originale® to redefine sugar and sweetening agents. The brand promises to make life sweeter for its consumers.
Sugar is known as the mother of all commodities and belongs to the lowest involvement product category. With the globalisation rapidly changing Indian lifestyle, the demand for newer and better products has been on the rise. Consequently, there has been upgradation in all product categories but for the sugar segment. Modi Sugar anticipated this opportunity and launched the Originale® range.
The Originale® range of products is a result of extensive and exhaustive research that studied modern behaviour, emerging needs & aspirations and the consumers' expectations from sugar and sweetening products.
Originale® is more than just sugar. Originale® is a thought that emulates Concept, Idea and Innovation.
Each product under the brand Originale® offers distinctive and unique value proposition and is split into 3 baskets, namely Health, Convenience and Lifestyle.
The range includes Originale® Half Spoon Low Calories SugarTM, Flavoured Sugar for Tea, Flavoured Sugar for Milk, Quick Dissolve Sugar and Demerara Coffee Sugar among others.
Products under the brand Originale® will be available in all leading stores across India.
The company plans to add more products to the Originale® kitty.